Don't expect Samantha Harris to be picking out baby names anytime soon.
The Entertainment Tonight correspondent and her husband, Michael Hess, are taking the ultimate wait-and-see approach when it comes to her second pregnancy.
"We are one of the only 30 percent of Americans that still wait to find out the sex of their baby in the delivery room," Harris, 36, told PEOPLE before hosting the March of Dimes 5th Annual Celebration of Babies last Saturday in Los Angeles.
"We did that the first time around and it was a wonderful surprise, so we're doing that again."And while they say that a mother always knows, this little bundle of joy is proving to be a master (or mistress) of mystery.
"With our daughter, I had two very vivid pregnancy dreams that I was having a girl," she says, "With this pregnancy I've had two very vivid pregnancy dreams — once it was a boy, and once it was a girl. Now I'm thoroughly confused!"
Confused, but not entirely unprepared.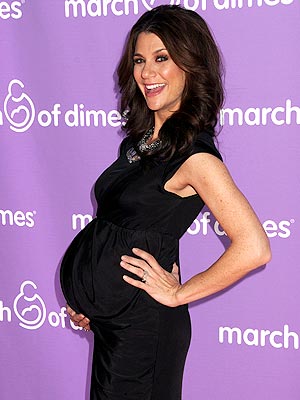 Byron Purvis/AdMedia
"We're actually going to what we did last time, which is to plan and pick out bedding for both," she explains. "We just moved the crib and the changing table into the new baby's room, but we're not painting or doing anything until he or she comes."
Despite not knowing whether she's expecting a Carrie Ann, a Len, or even a Bruno come January, Harris' preparations don't stop at shuffling furniture about, as she and Hess try to make certain that daughter Josselyn Sydney, 3, isn't somehow lost in the familial shuffle.
"We got her a baby doll," the former Dancing With the Stars co-host shared. "We're trying to encourage her to feed and burp the doll to prep her to be mommy and daddy's best little helper."
– Reagan Alexander
View full post on Celebrity Baby Blog