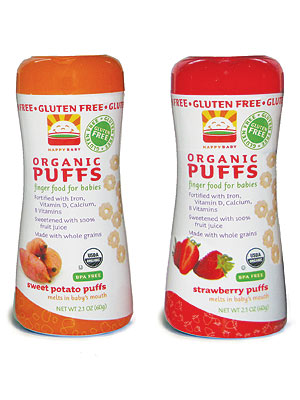 Courtesy of HappyBaby
Gluten allergies are no fun for toddlers, especially if they love to snack.
If that's the case, we suggest trying out Happypuffs ($3.39) by Happybaby. Similar to baby-friendly Cheerios, these mini whole grain bites are perfect for tiny fingers.
Plus, they come in fun, yummy flavors including strawberry and sweet potato.
And in addition to being gluten-free, they're certified organic and contain half the sugar of competing brands.
They're so delicious and good for you (did we mention they're fortified with vitamins and minerals?), your other tots will be clamoring for their own share.
Shop the whole puffs collection at HappyBabyFood.com.
View full post on Celebrity Baby Blog